Thursday 1st July
Still attached to the trees this morning, no one came and cut the ropes for breaking the rules!!!! A nice quiet isolated spot, and in spite of being under the trees no mosquitoes, what could have been better. A leisurely Breakfast whilst deciding where to go next. The natural place is through Agde and then head into the Camargue proper.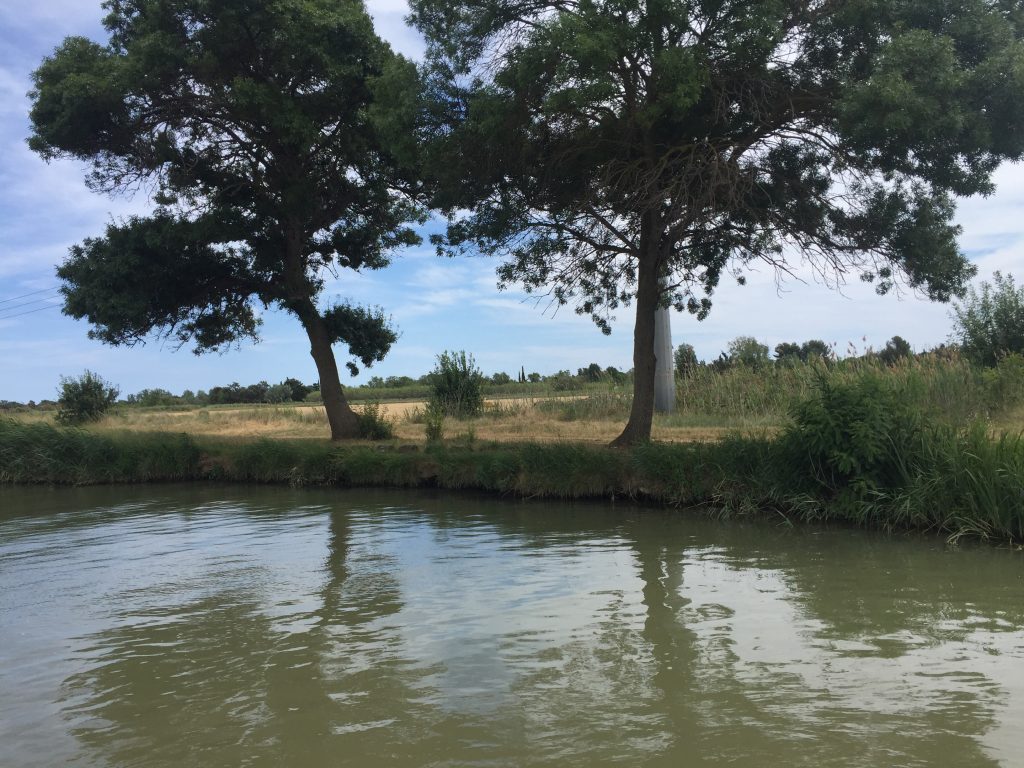 "OK Cast off ChristIne"; I said "I have" was the reply, nothing happened, we were glued to the mud; couldn't go forward, couldn't go astern, and using both thrusters, couldn't go sideways. ChristIne was pushing with all her might on the boat hook, but to no avail. The downside to a quiet canal is there are few boats going by, in fact "zero" were about, we were on our own.
Using the two thrusters to port, to starboard, back to port etc., we eventually managed to "un-stick" the boat and then on full throttle, go astern and escape. Decision: no more morning by trees!!! It wasn't as if we were against the bank, there was a reasonable gap so should have been safe🤔🤔🤔
Half an hour later we were on our way to Agde but were re-considering whether to go on or not as this part of the Canal du Midi isn't very spectacular, in fact it's boring, nothing to see.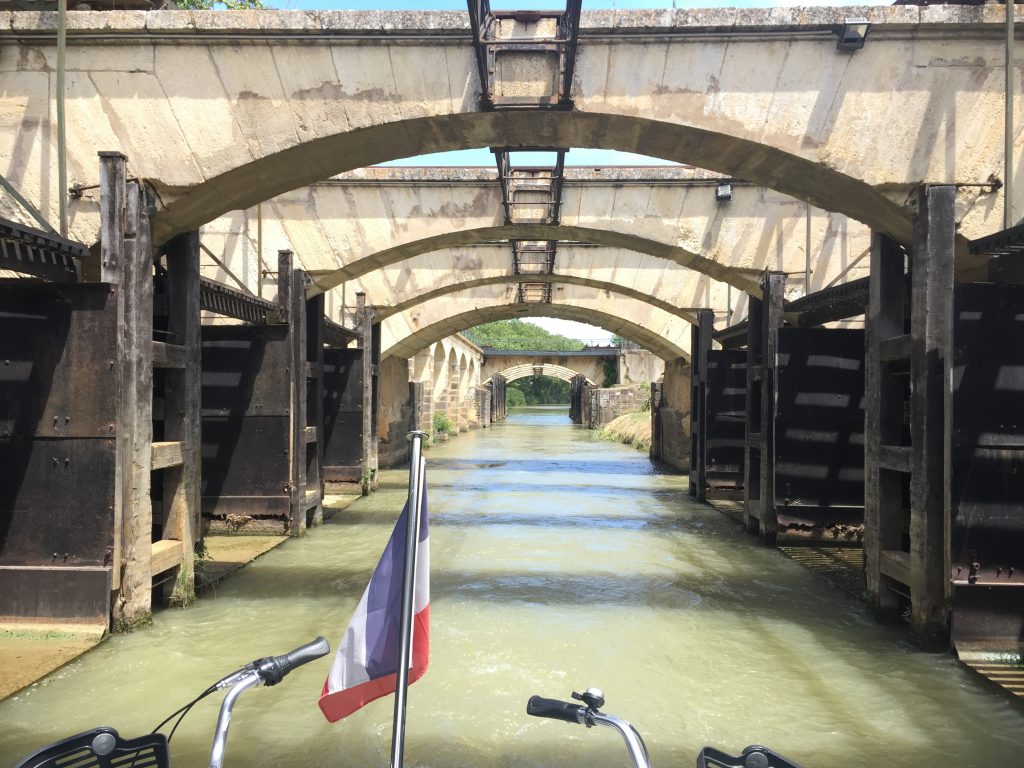 Whilst "en route" we came across a un-masted yacht with a red ensign so stopped and had a chat. This couple were taking their yacht to the Mediterranean, then onto Spain where they were intending to leave it and use it as their Spanish holiday home. They had sailed down through the Bay of Biscay onto the Garonne through Bordeaux where they had their mast taken down, then into the Canal du Midi. They had pre-arranged to have the mast transported by road and have fixed tomorrow in Agde. We were curious how they got on as their boat had a fin keel and we know canals can be quite shallow in places. They said they had touched bottom several times but had managed to power through the soft mud. It's good to see the canal being used exactly as it was designed for when construction began in 1667: opened 15th May 1681; joining "two seas". We wished them good luck and headed on.
According to the canal guide, the main attraction for boaters in Agde is the 3-way lock, it's use depends which route one is travelling. Our first port of call was for water and on the approach to Agde there is a sort of Marina with facilities so hooked up for water and had lunch. As we sat down we were "disturbed" by someone calling us, he was the "guardian" of facility and charged us €5 for the privilege. Chatting to him he warned us that if we went through the 3-way lock and on into the Camargue, we may get caught up with the winds, being so open and as Daisy is a gutless wonder, our decision was made, head back to Bezier.
We headed back, passing those two trees and following a very large holiday boat, zig-zagging it's way along the canal slightly slower than us and eventually we arrived at our first lock. In and out no problem but we had several more to do before we arrived at the "Port of Bezier".
We arrived eventually, moored up, paid our dues and dined on board then headed up to the historic district, wow, what a steep climb. Eventually, and after several stops along the way we arrived at the main square and I have to say it was worth the effort. This beautiful square had effigies of all sorts of animals with water running through them and at the top end a fountain with numerous "spouts" sending water high into the air. Naturally there was a statue of Pierre-Paul Riquet , who was responsible for the building of the Canal du Midi, who was born and lived here.