Friday 27th May
After getting on the scales this morning both Christine and I had an "out-of-body" experience, we had piled on the weight; we were horrified, how did this happen we asked ourselves "knowing very well", too many "meals out", and in my case too much "real ale" and on Wednesday, too many "French coffees", laced with double cream, yummy yummy, but now the cost, urgent diets start today.
No lingering over our miserable breakfast, I had to start the list of jobs I was given. Firstly I had to assemble a clothes horse, not a standard one mind you, no, Jane bought this one that arrived in about 50-bits, fortunately the instruction booklet was comprehensive and when completed, no bits left over😂😂. Next it was a trip to the local garden machinery place, the job in-hand was to get the motor hedge trimmer started. This hadn't been used for well over a year so suspected the fuel may have gone off but re-assured by David that it had recently been filled up so went for a new spark plug. One sniff from the garden machine mechanic told me not to waste my money, it was a fuel problem. The tank not having been drained and being two stroke, as the fuel evaporated it leaves deposits in the carburettor jets etc., and to make matters worse, they were so busy it would be about 6-weeks to repair; over to you Dave!!!
Christine didn't get out of things to do either though, hers were self inflicted. She had brought a number of bedding plants from Tom and Kathleen's to fill the various planters around the guest cottages. This morning we also had to go to good old B & Q for 100-litres of potting compost, followed by a new experience, we went into Aldi for some bits.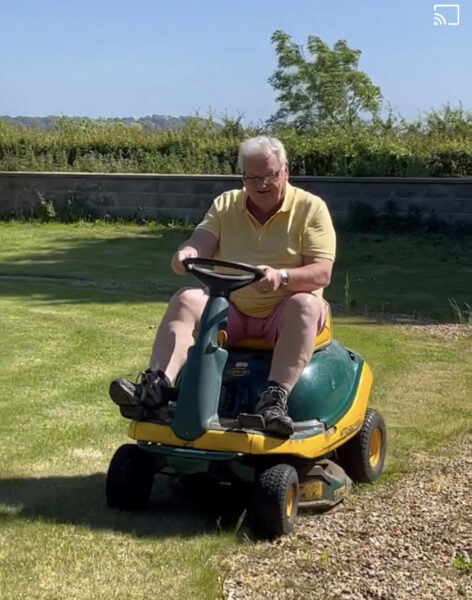 Back for lunch then as Christine started her "gardening" my task was to "mow" the front lawn. I haven't mown a lawn for the last 35-years or so🥶🥶🥶; still at least I can sit down on the job, and make the most of the sunshine.
Tonight we are on duty, collecting Mia from Theatre and Dance" school then babysitting as Jane and Dave are taking the opportunity to have a night out.
Tomorrow Dave is heading off to Sweden for a climbing holiday so he has an early start in the morning; please don't wake us Dave!!!!
Saturday 28th May
Another sunny day "and" I'm wearing shorts, can't believe our luck. This morning it was another quick dash to B & Q which of course took much longer than anticipated, Saturday morning and all that!!! Still back in time for lunch. Because of the fright we both had yesterday morning on the scales, yesterday was a "very" frugal day, minimal fodder and nil alcoholic refreshment and we're heading down that same path today and across the weekend in the hope we can shed a few KGs, quickly🤞🤞🤞🤞.
Saturday's afternoon was shattered by the alarm system going off in the barn and we were all chasing round like headless chickens wondering why it had gone off and where one switches the darn thing off. It even got to the stage where Christine and I carried a ladder from elsewhere and armed with a hammer, was going to silence it once and for all!!!, in fact this alarm was news to Jane, she didn't know she had one!!! Anyway, in the mean time she had discovered "another" room inside the barn and once opened, "low-and-behold" a control panel with a keyboard, next issue, what is the code!!!! At this point Jane contacted Dave on his way to the airport for help and the result was she had the code so all was well; Christine and I returned the ladder and the hammer😀😀
Sunday 29th May
I set about making a gate to fit between the cottages garden and another small, secluded walled garden that Truffle uses. Christine in the mean time started planting up the bedding plants Tom gave her. We both struggled to find the right "kit" amongst everything piled into the garage. The gate was being constructed from a dismantled cot; should be metal to match the arched stonework but this wooden one will do the job for now; it will keep Truffle safe and sound.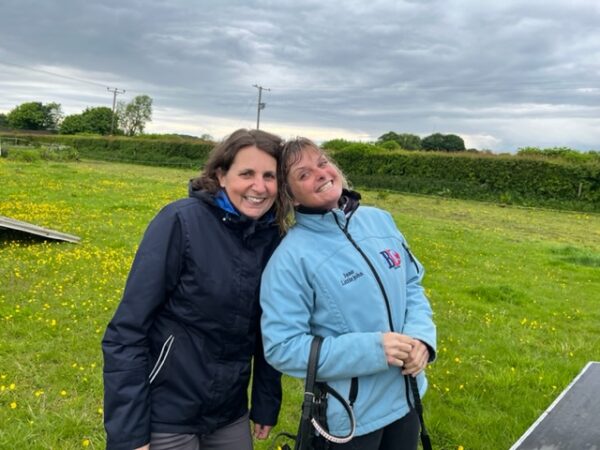 Around Midday Jo, one of Jane's oldest friends from school arrived, she is staying for a few days. The moment she arrived the two of them didn't stop talking!!!!! With Dave away climbing in Sweden, this was a good opportunity for Jo to visit. The last time we saw Jo was in Abu Dhabi when Jane and Dave lived out there.
The gate was completed eventually but couldn't be hung as there were no hinges to be found and Christine completed phase one of her planting at the same time so a cuppa was the order of the day.
This evening we were on Baby Sitting duty, again!!!
Monday 30th May
Late this morning we all headed to a local horse show. Jane had entered her horse "Herbie ", as she urgently needs the necessary points to qualify for this year's Nationals on him; 30-minutes to get there, 30-minutes to tack and warm up, 4-minutes competing, 30-minutes to cool him down and load up, then another 30-minutes to drive home; two hours for a 4-minute competition, still it was worth it, she got a good points haul.
The rest of the day just meandered by with nothing particularly happening until the evening when Mark and Ashleigh arrived for the night before heading down to Woolacombe for a prior engagement. Though we had met up with Mark a week earlier it was particularly nice to meet up with Ashleigh and catch up with her news. Mia of course was really excited to see them again and collard 'em for the early part of the evening. Tonight, and as a "special" treat, we made, "Mega-Biftas with the biz" for pudding. Theses are another "Page" special! At the bottom there is biscuit or similar, then ice cream, a couple of flavours minimum, loaded with as many different kiddies sweets and crumbled chocolate known to man, hundreds and thousands and to complete these bowls full of "delight", a squirt a sauce, either strawberry, chocolate, raspberry, maple syrup or as we had tonight, a bounty sauce. As I said a "Page" extravaganza that should carry a health warning!!!
Tuesday 31st May
Mark and Ashleigh disappeared at some "un-godly" hour this morning, none of us heard them so no complaints there!!!!
A week-or-so ago we went to the Broadmead shopping district in Bristol, but apart from finding the Apple shop, we were disappointed, no John Lewis, no Marks and Spencer, in fact a great disappointment. Yesterday at the horse show, chatting to someone we found out that the Bristol branches of John Lewis and Marks and Spencer were still a "alive and kicking" but had moved to a new "out-of-town" site at Cribbs Causeway, so that's where we are off to today,
We headed up the M5, parked and was in John Lewis for coffee time, no brandy unfortunately!!!!! Cribbs causeway boasts two major supermarkets, the largest B&Q I've seen and a couple of other well known warehouse shops as well as the Mall which has 150-shops inside, The walk from John Lewis at one end to Marks and Spencer at the other is a good 10-minute walk at a pace!!!!
After a couple of hours we'd had enough and decided another pub lunch was called for!!! Today I selected another "Butcombe" pub; The Swan at Rowberrow. This small village, just off the A38 at Churchill Rocks is up a narrow winding lane but to our astonishment the pub car park was "heaving" but there is another one across the road, though this one is controlled by cameras and has a pay station there; which we ignored as we didn't see it!!! "This" Swan Inn is a 17th century Grade II-listed pub and it has been modernised inside to cater to today's clientele but still keep its historical charm.
The reasons for the full car parks and the charging became apparent after chatting to one of the staff. This carpark is popular for horse riders, walkers and mountain bikers who all visit "Rowberrow Warren", a privately owned, 543 acres of woodlands managed by Forestry England under lease.
An enjoyable light lunch accompanied by a couple of glasses of their best ale before heading back home. The payment for the car park was "waived" for customers of the Swan Inn, but we did have to enter our registration number onto a screen, whereupon a picture of our car appeared!!! Apparently they chase you up with a fine if you park and don't do the screen but; I wonder if they would have chased us up with Spanish plates🤔!
Wednesday 1st June
Today we're off researching the coastline from Weston to Minehead as neither of us know this particular area, in fact a day of "grockling" . This is all part of our decision-making process as where to live once we've sold in Spain.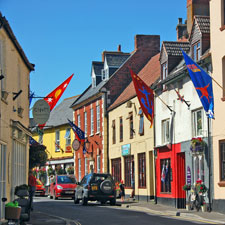 We headed out to our first stop, Watchet, a small port town at the mouth of the Washford River on the edge of Exmoor National Park. Our plan was to mooch around this ancient port on the North Somerset coast and get a feel for the area. Unfortunately many other people also descended in Watchet and there was nowhere to park. We drove into every car park and observed a queue to park in each one so a quick drive through this quaint but small town and we were on our way heading for Minehed passing through the very small hamlet of Blue Anchor. Here we noted a cafe and being well past our coffee time, we stopped for a break. Judging by what we saw, Blue Anchor consisted of a rather nice sandy beach, a static caravan park holiday complex and this cafe, not too inspiring.
After our break and continuing our route to Minehead, we detoured into Dunster, a beautiful old village with a medieval castle overlooking the area and dating back to the Norman conquest; it was mentioned in the Domesday Book of 1086. The centrepiece of Dunster is the octagonal "Yarn Market" building built in the early 1600's when this place became a centre of wool and cloth production and trade. Again we were not the only tourists wanting to look around Dunster, but on this occasion as we drove into the high street, a car just left its parking space, so quick as a flash, we parked and wandered around this beautiful place; a tourist haven.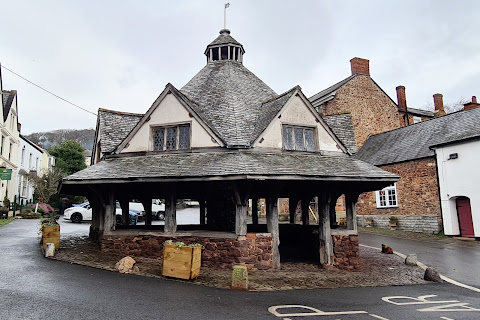 Eventually we arrived in Minehead and after driving down to, then along the seafront passing the enormous "Butlins" decided this wasn't our cup-of-tea so quickly drove out.
After a consultation with the map we decided to head to Woolacombe in North Devon where we knew there was a good sandy beach, facing the Atlantic, at the start of the Bristol Channel.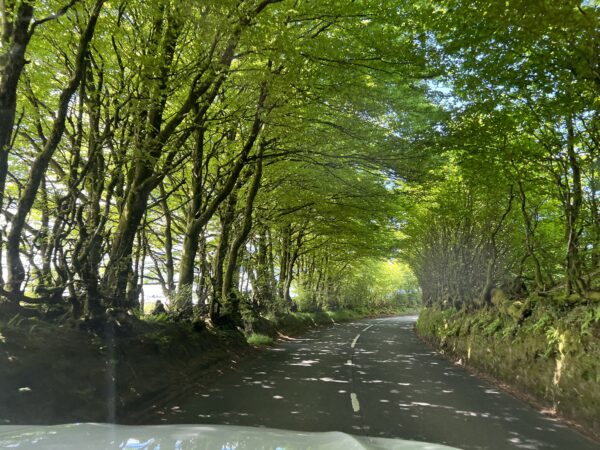 The route along the coast consists of narrow lanes and picturesque villages as it weaves its way along Exmoor and being reasonably high up one has spectacular views across the Bristol Chanel to Wales.
During the drive we concluded this part of Somerset didn't hit the spot and between Minehead to Woolacombe was far too remote and poor access from the M5.
Arriving down the big hill into Woolacombe we had a superb view of the beach and the Atlantic but, being a beautiful day the grockles were out in force; from on-high it appeared the beach was crawling with ants. The rest of Woolacombe really only catered for holiday makers, holiday caravan parks everywhere. Glad we had look but certainly not on our list of suitable places to live so after a quick look-around, headed to the M5.
Today has been a good day in-so-much as we have a good idea where not to look for property!!!
Back at Hope Farm we were back on Baby sitting duties as Jane and her riding friend, Tiguan went to the cinema. That's it Jane, make the most of the "oldies" staying!!!!!