Sunday 8th October 2023
This morning Lee and Sarah had to head to the lemon tree market and we took the opportunity to do a few jobs in and around Rosie; all go!!!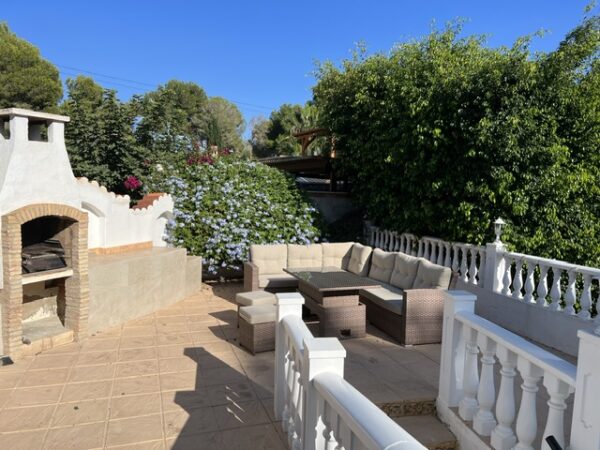 Today we are going to "Oasis" a restaurant we regularly frequent when we lived here, and were always joined by Lee and Sarah when they were over. The excuse this time was Lee's birthday, well in a few days time!! First a quick 'phone call to check if we can bring the dogs, yes we can.
Arriving at the appointed hour we took our seats and the dogs settled down, no doubt thinking for about an hour or so. When we get here we have a habit of just having starters, a lot of them but we only order one at a time, and we each chose one or two; we like "to linger" and we always have a conversation about how many bottles of wine we've consumed, we never remember!!! After about 4-hours the two dogs became fidgety, so needed a short natural break!! We then carried on for another hour. We are usually the first to arrive, and we are "always" the last to leave, and today was no exception; another super lunch😀😀
Back to Calle Acebo but arrived "toooooo late" for the Japan V Argentina match, but this result had no bearing on anyone, but now it was decision time. We could either watch the Qatar Grand Prix or the Tonga Rumania game; we elected to watch the Grand Prix. We decided if this was an exciting game we would watch it on "catch-up" but looking at the result, we made the right choice.
Lee had set the tv up on the bar down by the pool to watch Fiji V Portugal, the last, but a very important game, well for Eddy Jones' Australia, they needed Fiji to lose by more than 7-points to replace them in the quarters. What a match, The "Flying Fijians" weren't flying tonight and Portugal played jolly well and managed the unthinkable, they beat Fiji but not enough, Australia are on their way home😁. Result: Fiji 23 : 24 Portugal and after the final whistle you would have thought Portugal had won the World Cup, they were so happy and quite rightly so, they played well, and deserved the win.
During all this time Sarah was playing with Tom-Tom and Rosie, throwing the ball everywhere and completely knackering them out, another good nights sleep🤞🤞, tomorrow we head off, our visit to Campoverde is coming to an end.
Thank you Lee and Sarah for your hospitality and we thoroughly enjoyed re-visiting Calle Acebo; the house is in very good hands.