Lovely quiet night and we were up and out by 9.15am, we have a ferry to catch, walked down to the town, along the lakeside, and arrived at the dock side, bought our tickets, they checked we had muzzles before they would let the dogs go on board, and we were off.
The scenery is fantastic, not quite as stunning as the north, as there are not the big mountains, but still very pretty, definitely a place to visit.  Our first stop was Desenzano , a
town right on the south end of the lake,  not the prettiest of places, plus they had a huge market on the waterfront, so it was quite difficult to negotiate with the dogs, and it was very hot, we reckon it was 40 degrees, not a good day to sight see.  We did find some shirts for Geoff which were nice, and fitted him perfectly, so he bought two, now I can throw some of the old ones away!  We wondered around but this town does not do anything for us.  Our ferry was due in at 12.15pm, so we wondered back to the docks, sat on a seat and waited, we then watched our ferry leave from a different Pier, what idiots we were, we were both cross, we went for a walk, and ended up having a drink, and waiting for the next one, which was one hour later.
Eventually we arrived at Sirmione, which was such a pretty place, it is a peninsular, with an old castle on, lots of ruins, some lovely restaurants and shops, we walked all around, gave the dogs a swim in a fountain, as we could not get down to the beach with them, that cooled them down a bit, Sooty kept holding his paws up, as the pavement must be very hot, so we kept walking in the shaded bits, to help him.
We stopped for some lunch, we shared a pizza, glass of wine, and plenty of water, and they bought two bowls of iced water for the dogs as well, which was very kind. Refreshed and nourished, we walked back to the ferry, and decided to go to Lazise, a walled city, another pretty place, we wondered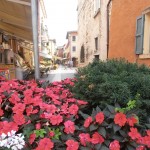 around; bought an ice-cream to cool us off, then back to the ferry, and back to Garda.
The ferry ride was lovely and relaxing, and you could take in all the sites, you could have got off every stop, but we only chose the ones we had been recommended, it is a lovely way to see the Lake and its various towns, but it was the hottest day of the year apparently, so we were exhausted.
As soon as we reached the area where we could swim, we quickly changed and into the water, we were all glad to cool off, especially the dogs.  Sooty kept a couple amused on the beach; they ended up throwing stones for him, whilst we were swimming.
Now cool and relaxed, we got dressed and went into one of the restaurants on the lakeside for a lovely meal, and a couple of drinks, a lovely end to another nice day.