Sunday 15th October
To be fair the night stop in Leclerc was fine and not too crammed in, probably due to bad parking by the two motorhomes beside us; thank you bad parkers!!! In addition, there were facilities for water, for a price and discharge facilities which we made use of.
Logrono is about a two hour drive and our plan is to find the motorhome park, park up and head into the old part for our "last lunch" for this trip, and being a Sunday, the town should be buzzing; we'd identified a suitable restaurant and according to the write-ups, sounded rather good. Additionally it didn't open until 1330hrs so no pressure for us to rush.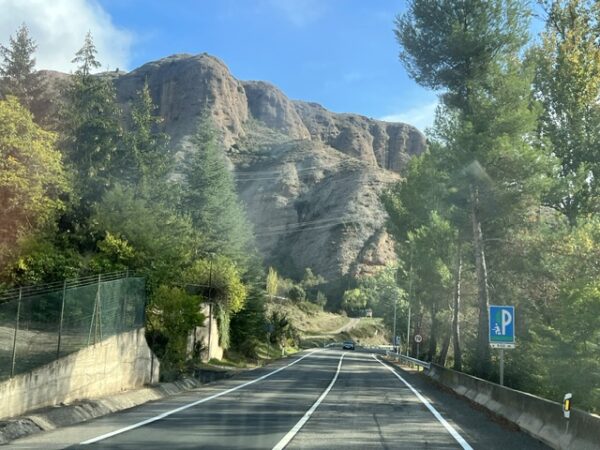 Driving to Logrono was fabulous, the scenery as we drove through the mountains was extremely dramatic and though the road was of good quality it did twist and turn a great deal much to Christine's discomfort. There is definitely no argument, the beauty and greenery of this part of Spain is a complete contrast to the desert and the surrounding areas of the south. In spite of all the greenery, obviously this is an area of heavy rains, but the lake that has been created to form a reservoir in these mountains was extremely low; no doubt blaming global warming!!!! The nice thing about this route, albeit inconvenient, are the old stone bridges; the new wide roads go to the bridge but the bridge is a still single road, fortunately each time we arrived at one of theses bridges, there was no other traffic😁😁. This may be an "out-of-the-way" route to take, but it was certainly worth the effort and I would do it again, but from the other way!!
Arriving in Logrono around midday we had two motorhome parking places to chose from and fortunately we had to pass the first one to get to the second one. Arriving at the first MH park was interesting as this carpark had been completely taken over by a car boot sale; no room whatsoever, so headed to the second one. Me thinks "they're having a laugh", SatNav took us around a couple of roads and deposited us in a carpark admittedly amongst trees, but it backed onto the big one with the car boot sale!!! The good thing was the car boot sale hadn't encroached this area and after a quick circumnavigation of the of all the spaces, settled on a spot at the end; at least no one could go on the end and also over the road behind us, was a large green grassy area, ideal for the dogs.
After parking and settling Rosie up on a couple of front blocks, and being a Sunday, we spruced ourselves up as best we could. In the town and cities there is still the culture of the family dressing up smart and heading out to lunch, we did our best!!!
The walk to the old centre was a little over one km, flat to the river Ebro, "very good news", over the bridge then a short climb up a gentle hill to the Main Street with the restaurants, bars etc., and of course a lovely square. After Teruel this was like a "walk-in-the-park', arriving at the chosen place to dine 15-minutes early though chatting with one of their waiters we were invited to sit down and he'd get us a drink while we waited. Unfortunately for him we had also spotted the restaurant next door, they had a Sunday "Menu del Dia" and it looked very inviting. We had the dilemma, "fixed" menu or "a la carte" but the decider was, when they both opened at 1330, the fixed menu restaurant was immediately busy whilst the other didn't have any people at this point.
We enjoyed a pre-dinner drink observing everything that was going on, families promenading etc., before ordering. Whin I asked the waiter for the wine list, he shrugged his shoulders as there wasn't one however, he asked me to accompany him and we were joined be another waiter who escorted me into a temperature controlled room, "their bodega", full of all sorts of wine and we must not forget, Logrono is the centre of the Rioja region: No prices of course!!! This is the second time this has happened to me in Spain and the first time it was costly but hey, we head back to U.K. next so just choose and enjoy it.
We had a superb meal and of course kept an eye on next door, see what we've missed, and we were happy with our "lot". Of course TT & R sat patiently under the table for the couple of hours we were there; we're amazed how good they are when dining out, they have always done it quite naturally.
It was time for "La Cuenca", and swallowed hard as it was arriving only to be rather surprised by the bottom line; now at this point I should have said something, yet they are responsible for their own accounting aren't they?, so kept quiet, immediately paid and left. They hadn't charged for the bottle of wine from their bodiga and I know it wasn't the cheap stuff like the first glass Christine had earlier, it was bloody good!!!!
Tonight England are playing Fiji in the quarter final so had to be back in time for kick-off at 1700hrs, but still had some time for a walk around the square etc. Christine elected for an ice cream from the ice cream parlour and we then went to a cafe in the square so I could have a coffee and a brandy. We sat and watched the waitress head to another table took their order and back inside, ignoring us as Christine munched her way through her ice cream. She then returned with that tables order and just chatted to them as Christine got on with her ice cream, at which point another couple turned up and the waitress went straight to their table. By now Christine had finished her ice cream and we got up and left. There were two cafes in the square adjacent to each other. The other one was busy but unfortunately no table on the periphery where we can park two dogs; we got that wrong!!!!!!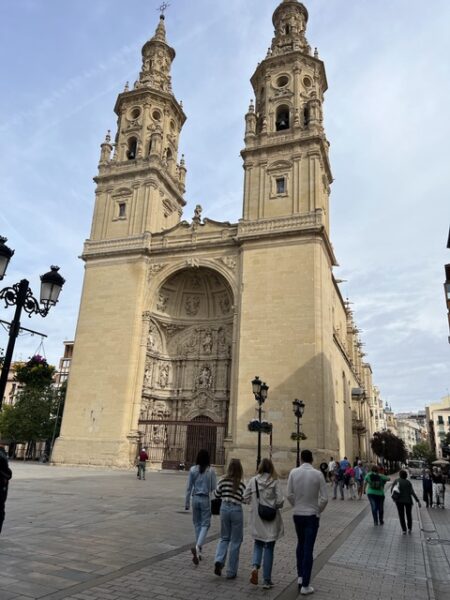 The walk back was easier as it was down hill to the river then flat, and upon arrival noted the car boot sale had all packed up, the big carpark was empty, even our area has also emptied out, even better.
With the walk back the dogs were happy to sit for a bit so got the iPad out and switched the rugby on.
At the outset of this years RWC England had been written off; lucky if they get out of their pool was the thinking, well they performed better than expectation, not only have they come through the pool stage, they are the only team to have won every match and came out as the pool winner!!! Now it's the knockout stages so it's "win or go home" for every team from now on, so important. Fiji are a good team and beat us at Twickenham in the last game they played so pride, as well as a place in the semi final is at stake. This was a nail biting game, ebbing and flowing but fortunately in the end, England found their stride and won. Result:- England 30 : 24 Fiji, We now have to watch the next match, the winner between France and South Africa will be our opponents in the semi final.
2100 hrs after Christine had taken the dogs out we settled down again in front of the iPad for the next Match. France being the host nation who had never won the RWC had a lot resting on this game, for them it was unfortunate to finish up playing South Africa in a quarter final, two teams who should have both gone through to the semis, so we knew it was going to be "hum-dinger" of a match.
From the moment the whistle blew it was brutal action, both teams giving it their all, and both teams scores progressed together, surely this game was heading for extra time. What a match, two fairly evenly balanced teams, both deserved to win but of course this is knock-out time and France was eventually the losing team. Result:- France 28 : 29 South Africa. England now know they will meet South Africa in the semi finals; a repeat of the 2019 RWC final in Japan, I just hope the result is different!!!
After a really good day we headed to bed, Bilbao tomorrow