Monday 2nd January
Today we woke up early and still dark!!, subconsciously we knew we were having to leave early I suppose. We had arranged to meet for breakfast around 8.30, but with time to kill we packed the car, well we tried; there was such a heavy frost even the car doors were frozen solid!!!! Eventually we prized open the boot and retrieved the de-icer; de-icer is something alien to me these days but I'll just have to get used to it.
Back inside and we headed to the restaurant for breakfast where yet again, "Loch Fyne Kippers" we're off, and even worse this morning, there was no "Haggis" either!! As we walked into the restaurant the view over the loch was magnificent, the early morning sun as dawn came up was a "sight to behold", a fitting view to look at whilst we breakfasted. Monica and David soon joined us and we all had a good chuckle at Christine and her lack of "Kippers", again!!!!!
After breakfast we said our good-byes; we were all packed, the bill was settled, so reluctantly we hit the road. The other two lingered over breakfast, they were heading to Edinburgh so were not in any hurry.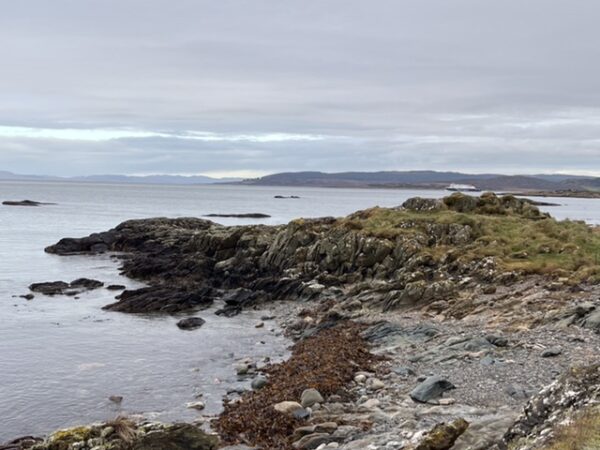 Today the return journey along the lochs was great; no rain, sun shining and minimal traffic, what could be better though we did regret having to pass all these beauty-spots and small, interesting towns like Inveraray on Loch Fyne; maybe we should have stopped as I bet we could get kippers there!!!!!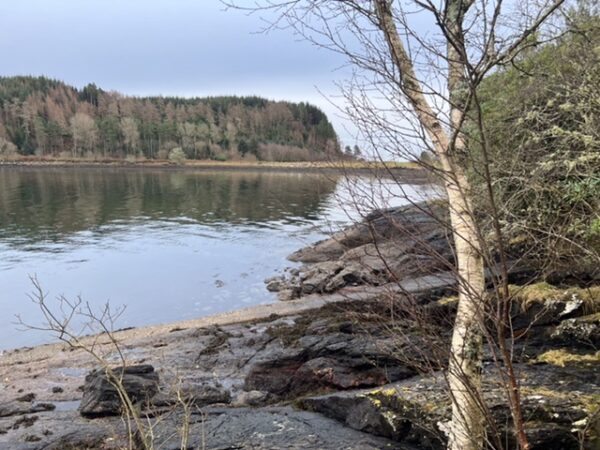 Once we hit the A82 on Loch Lomond we hit traffic, it was solid, creeping a few inches every five minutes, in fact the only reason we were creeping forward we suddenly realised was due to the cars in front turning around. After watching what was happening for some time, we joined in and followed the crowd and headed up this country lane. After a couple of miles and a left turn or two, we returned to a roundabout back on the A82!!!! fortunately after the "accident": ok having wasted half an hour or so, decided to stop at the "Duck Bay", again, after all I had done my 2-hours driving and time to swap.
Christine took over the driving and we continued after indulging in a couple of cakes with our coffee break. Passing Glasgow was a cinch, traffic was light and it wasn't long before we hit the A74M. Our next "planned" stop was Moffat as we had "clocked" the price of diesel whilst there before, the cheapest so far!!!
Arriving in Moffat, fortunately all the floods had evaporated, we drove into the petrol station, filled up, changed drivers and off we went again. We had a jolly good run crossing the border, wizzing past Tebay services, passing Carlisle and then, boom; traffic. There was no let up in the traffic until we cut off onto the M56 and headed to North Wales.
When we set up SatNav at the castle, our journey time was 6-hours but when we eventually arrived in Prestatyn it had taken eight and a half hours; a disastrous journey, two and a half hours longer than planned; ugh, motorways in the U.K.
We arrived at their new home in Prestatyn and were welcomed like long lost relatives by David and Leisha, handed a gin and tonic and some rather scrumptious cheesy bacon sticks; homemade by David of course🤪🤪. After a wind down we were treated to a superb home-cooked curry, by which time and all our troubles from the M6 just vanished away.
After much "chatter" and "catching up", we headed off to bed, hacked off at the misery created by the poor motorway system yet very happy to be with our great friends, Leisha and David in their new home.
Tuesday 3rd January
Rather a leisurely day was planned today, but we had booked a table for tonight at a local restaurant pub they knew.
First thing this morning, "very early"!! David walked the dogs; their dog "Otis"and their daughter's dog "George" before returning home in time for Leisha to head to Chester Hospital, taking George with her. The plan was for Leisha to return George to his home in Tattenhall Marina after her appointment but the best laid plans etc., etc., don't always work. No, Leisha arrived an hour too early, too long to hang about with George in the car but insufficient time to get to Tattenhall and back so a 'phone call was needed to David. Christine, David and I had just had breakfast when the call came in, so their plan to head to the beach with Otis had to be shelved. David rushed to Chester, picked up George and headed to Tattenhall Marina where George was "ceremonially" deposited before returning to Prestatyn.
Whilst all this was going on, Christine and I headed to Rhyl to transfer funds to our solicitor for our new house purchase. Whilst out and about we drove along the sea front, looked at the "grey" sea from the car at several points and stopping at "Costa" before returning to Prestatyn.
When we returned, David had completed his "unplanned" and "unexpected" trip to Tattenhall and when Christine was booted they were ready for the long awaited beach walk with Otis, their Labradoodle whilst I stayed at home, but not "alone" for long, as Leisha returned soon after. By mid afternoon Christine and David had returned with Otis and before long, after much more chatter and a few drinks, we realised we had a table booked!!!
Being North Wales where there is zero tolerance, we took the "prudent" option and booked a taxi to take us; at the appointed hour we were standing outside their house, in the road with a keen wind blowing waiting and waiting, We tried ringing but that didn't work at which point our thoughts turned to ordering a "Chinese take-away" when out of the darkness a black Ford taxi turned up, no apology from a rather miserable driver who just told us in a "matter-of-fact" way he was busy!!! Unfortunately to add salt into our wounds, we had to book him for the return journey, and hoped he would arrive at the appointed time🤞🤞🤞🤞
We arrived at The crown in Trelawnyd and walked into a cosy, warm and inviting pub with real ales, nice one David!!! Apart from the ales, the menu was varied and the food was first class, it was a well chosen venue for a comfortable and enjoyable evening with good friends.
The taxi driver driver had dropped us in the car park behind the pub so naturally waited there for him, only to find on this occasion he decided to pick us up at the front of the pub; plonker!!!
Back home David and I enjoyed a nightcap before retiring