We caught up with the washing and ironing, after taking a dip in the pool, the heater is now working, and it was very good, we did our exercises, had breakfast, then left about 11am.
Another challenge to keep off the motorway again, we had a slow drive down, I was determined to find the beach, we were in and out of some estates, I then put Tom tom on, and she took us to Beach Road. By this time we were getting hungry, we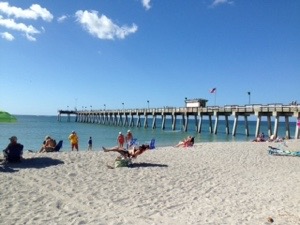 found the beach, and paddled, it was quite chilly, but a lovely sandy beach.
We were still hungry so decided to go for lunch, we found this French place called Croissant & Co, was even run by a French family, it was lovely. I had a quiche Lorraine, and Geoff had a baguette, with a pot of English tea, with a China cup, the service and food was great.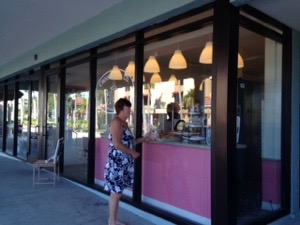 would recommend anyone to go there.

We walked around the quaint village, with tiny shops, then travelled onto Siesta Key, we found a parking place, and walked on the beach, this one was packed, as the sand was so soft, apparently the best beach around here.
. As it is Thanksgiving week end, everyone was on holiday, think they have all come to the beach.

Lovely day, and then headed for home, went for another swim in the pool, and later Geoff cooked dinner, and we relaxed for the rest of the day.