26/11/2013 – 30/11/2013
Time just rushes by here, there is never a dull moment, on Wednesday Geoff and jane went to collect the trailers! as they had just been imported from England, my job was general duties, I cleared out of the original bedroom we were in, cleaned and made the bed ready for the next visitor, which is Julie on the 5/12.  I walked the dogs over the back of house, which is like a building site, but instead of mud, it is sand, at least it is drying out now.
28/11/2013 Geoff is really excited as he is going to the Dubai Rugby 7's, we dropped him
off at the airport, so he could get a taxi, then Jane and I went to collect Dave as he has a half day.  We went for a Lebanese restaurant, which was very interesting, Jane and I had already had lunch at another place, (we got it wrong) whilst waiting for Dave, so we sat and helped Dave with his, very unusual, but good.
Later Jane and Dave went to see Herbie, whilst they dropped me off in the dessert, hardly anyone goes there, so Dougle and Oreo, enjoyed there marathon walk, I knew they would collect me as I had Jane's babies with me, she might be pleased to get rid of her step-mum, but not her dogs!!
29/11/2013. Today Dave is joining Geoff in Dubai to watch the rugby, his transport was very late, so once he had gone, Jane and I took the dogs to the beach, it was lovely, we
wished we had put our swimmers on, it was 28 degrees, very comfortable to sit and watch the world go by, we had a little picnic, then later strolled back to the car.  On way back we met a lady with a golden cocker spaniel, with all Bella's mannerism, so funny, she was barking at the other dogs, I really miss her, I know she is ok, cos she is with Mary and Barry, but still miss her.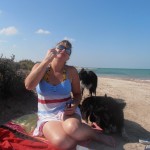 The dogs were exhausted, back home a quick shampoo for dogs, then onto the stables to see Herbie.  Jane had a ride, whilst I sat and watched, another lovely day.
30/11/2013
Off to Dubai today, as Jane has sold one of the trailers, we arrived at Eileen's at 11 am met the lady who was buying it,
exchanged money for trailer, a satisfied customer.  Eileen said we could walk around the lake here, so we decided to do that, we turned the corner, and wow what a fantastic sight, we started
walking and asked a lady how long it took to walk all around, she hadn't done it, but she said about an hour, so off we went.
Well it was an amazing walk, with fabulous houses on route, lovely grass, and a beautiful lake, but we thought we were never going to get to the end, we got half way, then there were little
creeks to go around, making the trip longer, we eventually came to the end, it took us nearly two hours at a steady pace all the way round, both Jane and I had blisters, but Dave seemed ok, we
wished we had taken water, and maybe a picnic. A quick goodbye to Eileen back in the car! and head for Subway for lunch, we were all starving, the dogs never uttered a word all the way home.