Monday 16th October 2023
Leaving our site mid morning on the last leg of our tour to head to Bilbao, we catch the ferry tomorrow. Today our drive is along the "Route del Vino" travelling through the vineyards that produce the Rioja, not so dramatic as yesterday but very attractive.
Our plan is to stay on a site high above Bilbao, a nature area with much "dog-running" opportunities. Driving up a very steep hill we arrived at the entrance, along with several other MHs, parked and joined the queue to "check-in". The woman behind the desk was at "sixes and sevens", had no clue as to what she was doing and only wanted to deal with those who had pre-booked; we along with many others hadn't. Every time she came out of her office and anybody said anything she had a stock answer ""I'm working out what spaces are available""; we could have told her, the place was only about half full!! After what seemed an eternity of gross inefficiency I'd had enough, I said we'd help her out as we're going, and left.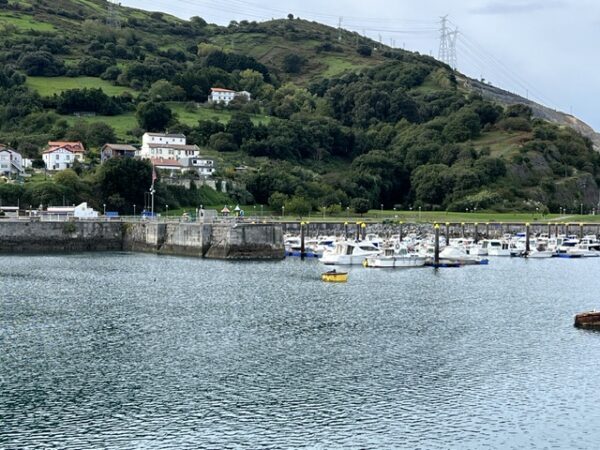 I looked online and at the docks, could see there was overnight parking available so headed back down the hill. We needed to fill Rosie with fuel but unfortunately passed the entrance to the last service station as we headed into the dock complex, then suddenly we remembered there was a fuel station down by the docks and it was the cheapest we had found whilst driving through France and Spain, €1.45 litre; lucky or what!!! Whilst filling I asked the attendant about parking overnight and he suggested I talk to the truck driver the other side of the pumps. We could see the big HGV parking lot and assumed that's where we would be but no, the truck driver was very helpful and directed us to get onto another road that ran parallel with this road and turn right at the end; free parking.
Having completed our "bunkering" we headed in the direction we were given and what a turn up, he had directed us to a nice carpark alongside the marina and reasonably quiet with a large patch of grass to run the dogs, there was also a restaurant in the marina, win win. Once parked up we went for a walk and headed to the restaurant when we realised it was a Monday, the restaurant was closed😩😩
We wiled away the afternoon running the dogs chasing the ball but found out later they were all sticky and Tom-Tom in particular was covered in some sort of burrs, horrible to us but didn't seem to bother the dogs; they need a shower/bath desperately.
After dinner went for another walk along the marina. As the evening approached, the car park started to fill up and we wondered where everyone had gone to; we found out on our walk, they were all fishing. Goodness knows what they were fishing for it was a man made tidal marina and as far as we could see, no one had caught anything!!! What was also odd was the wives of the guys fishing were all sitting against the wall of the building behind, chatting!!!
Back at the van and a few games of crib we headed for our last night in Rosie for some time; well maybe!!!
After the fishermen had gone and the carpark emptied we thought that was that and it would be quiet, wrong, that's when the music started, loud or what? Still it was all over by midnight and we went to sleep